We appreciate your interest in joining our team. We are looking for people with a passion for working with children with disabilities and a desire to make a difference.
Job benefits at the center include: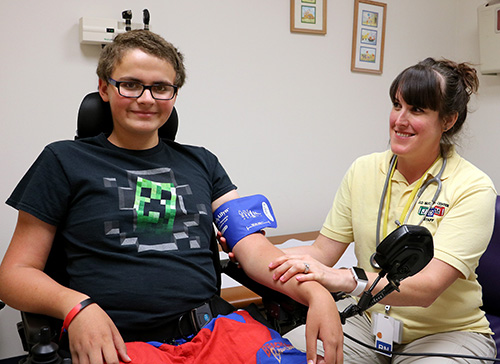 • An allowance provided to pay for health and dental insurance
• 120 hours vacation and sick time provided per year
• Longevity bonus
• Defined contribution retirement plan
 
Current openings:

RNs and LPNs. Nurses will monitor an assigned hospital unit to ensure quality of patients' health and the care given by direct-care specialists.

Direct-care specialists. DCS work with our patients with disabilities, from infant to 21 years old. DCS accompany patients to appointments, school and afterschool and recreational activities during the day. DCS also assist patients with their daily living skills. During sleeping hours, DCS perform routine bed checks and other patient care needs.
If you're interested in working with us, please complete our online application and email the application and your resume to resumes@jdmc.org. Internet Explorer and Firefox are the browsers that work best for completing the online application. You can also mail your application to:
J.D. McCarty Center
Attn: Human resources
2002 E. Robinson St.
Norman, OK 73071
To apply in-person, you can complete an application from 8 a.m. to 4 p.m. Monday through Friday at the center.