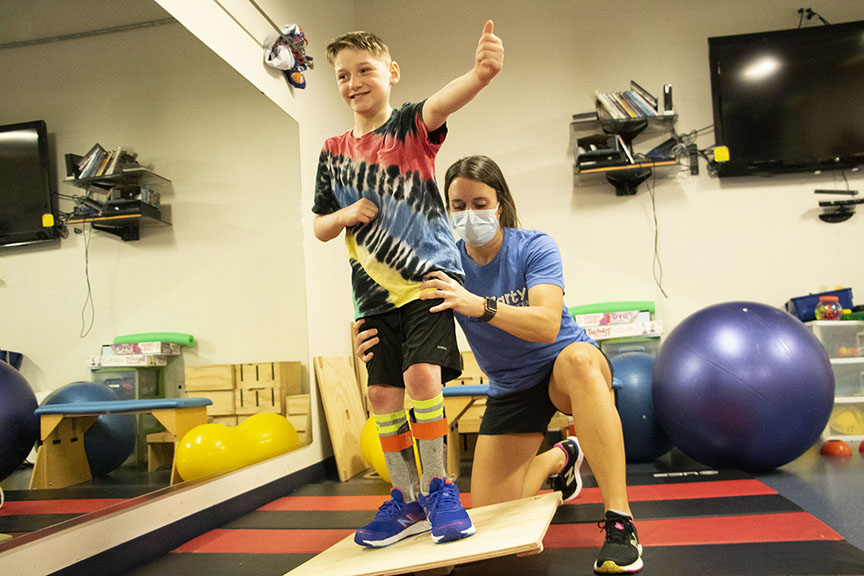 We're excited to announce that our intensive therapy program is starting in June 2023!
Here are more details about the program:

What is Intensive Therapy?
The J.D. McCarty Center utilizes the Intensive Model of Therapy (IMOT) when treating children with a variety of neurological and genetic conditions. The program focuses on a high level of repetition of specific movements to meet goals for improved strength, integration of unwanted reflexes, and facilitation of improved/appropriate motor patterns to encourage changes in the developing brain.
Fast fact: Ninety four percent of all children who undergo intensive physical therapy demonstrate an improvement of
gross and fine motor skills.
What does the Intensive Therapy Program and schedule look like?
The J.D. McCarty Center Intensive Program utilizes a combination of treatment interventions including Dynamic Movement Intervention, Therasuit, Universal Exercise Unit, Hypervibe and Lite Gait. Patients are scheduled for 3 hours
of therapy per day, 5 days per week, for 3 full weeks. Each child is prescribed a combination of therapies that is tailored specifically to his or her needs and goals.
The center's team of physical therapists and occupational therapists are certified in a variety of DMI levels, as well as Therasuit, Universal Exercise Unit ("Spider Cage") and suspension system and Lite Gait.
A skilled and knowledgeable team of therapists work together with input from the child and family to create an individualized treatment plan to help them achieve their goals. Families also will be provided with comprehensive training and home program following completion of the program.
What do I do if I think my child would benefit from the Intensive Therapy Program at the McCarty Center?
The Intensive Therapy Program is scheduled to begin in the summer of 2023. Twenty-four sessions will be offered and will be filled based on an application. The application will go live on January 2, 2023.
Please see the attached FAQ sheet for specific information regarding the application and scheduling process, along with specific information on appropriateness of the Intensive Therapy Program for your child.
For more information, contact our Rehab office at 405-307-2815. Also, check our social media channels for more details about the launch of this program.